Our sponsored player Danni Wyatt was in the thick of the action, scoring a goal and suffering an eye injury, as Torquay United Women progressed in the Vitality Women's FA Cup.
Returning from illnesss, Danni wasn't in the starting line-up for yesterday's (October 3) home game in rainy conditions against Helston Athletic Women, but came on in the second half with 30 minutes to play.
By that time, Torquay were 2-0 up thanks to goals from Kirsty Caunter on her debut, and captain Daisy Self.
Danni replaced Ellie Bishop on the right, and was soon on the scoresheet. Connecting with a Rhi Bailey throw-in, Danni put the ball into the penalty box. It rebounded off a defender, and she knocked the ball home to make it 3-0.
But Danni came off worst during a challenge on the edge of the penalty area, when she took an elbow to the face, leaving a cut above her eye.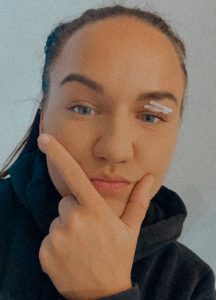 "It was quite a bloody injury," she said. "So I went off for some treatment. Steve [Elswood] cleaned my eye up, and I went back on – there were only a few minutes left, but I wanted to get back on. It was probably adrenaline."
Danni concluded: "It was a good result against a strong Helston side, who really tested us. But we were too strong and finished well."
The victory means the team has now gone 15 games unbeaten.
Sport is one of our specialist areas, so if you're involved in sport and looking for PR or communications support, see what we offer.