A new production of the award-winning West End and Broadway show, Beautiful – The Carole King Musical, arrived in Cardiff this week (Tuesday 24 May), and our companion hyperlocal site Rhiwbina Info was there to review it.
The show tells Carole's (Molly-Grace-Cutler) story: from her teens in Brooklyn as a would-be teacher, through her successful song-writing partnership in Manhattan with lyricist husband, Gerry Goffin (Tom Milner), to her move to California and becoming one of the most successful singer-songwriters of the 20th century.
The reviewer, our senior consultant Andy Weltch, described it as "an inspiring, feelgood show liberally sprinkled with almost 30 familiar hit songs, brilliantly performed by a talented and engaging cast."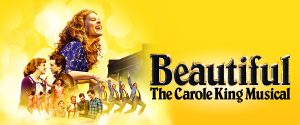 "It's an incredible catalogue of familiar chart-toppers right through the 1960s to the early '70s," he added. "… a wonderful whirlwind journey through some of the greatest songs of the last century".
Beautiful – The Carole King Musical is at the New Theatre, Cardiff until Saturday, before continuing its UK tour.
You can read the review here.
Arts and entertainment are among our specialities. If you're involved in this sector, contact us to find out how we could help you.