Jamie Bryant from Bath took the honours in an incident-packed Weltch Media West of England hot rod championship at Mendips Raceway on Monday (August 27th).
The first qualifying heat saw victory for Mark Shelper (from Bristol), holding off the challenge of Steve Hunt (Taunton) and defending champion Colin White (Glastonbury).
In the second heat, White, a multi-time world champion and successful sports car and endurance racer, led from the start, and skillfully negotiated lapped traffic to finish almost half a lap clear of runner-up Hunt.
With the grid for the final based on points scored in the heats, White started on pole, alongside Hunt, with Bryant and Shelper behind them.
White seemed destined to retain his title, but his car cut out on the startline with a broken halfshaft. This left Hunt to race away, with Bryant behind him, and Shelper third. Now the championship looked to be Hunt's.
But within the first lap, his car too came to halt, leaving Bryant and Shelper unexpectedly battling for the lead. With the two seemingly quicker on different parts of the track, spectators were treated to 20-plus laps of high-speed cat-and-mouse, with Jamie holding Mark at bay.
But there was more drama with a lap to go, when an incident on the top bend saw both leaders crash out, resulting in red flags and an early finish. The result was declared, with Jamie Bryant the champion and Mark Shelper runner-up.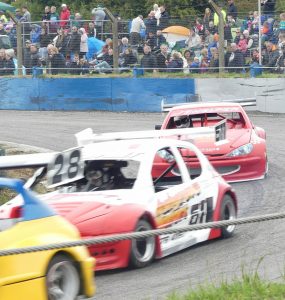 "What a fantastic event to be involved with," said Weltch Media's senior consultant Andrew Weltch, who presented the trophy to the new champion. "The racing was exciting and unpredictable, and it was great to see two second-generation drivers taking the honours – Jamie's dad Paul Bryant and Mark's dad Alan Shelper are both former star hot rod racers, who I enjoyed watching decades ago!
"Congrats to everyone involved, especially to Jamie for winning the title."
The event attracted top drivers from around the South and West of England competing in the high-speed touring car-style formula.
The West of England Championship dates back to the 1970s and has been held at Mendips Raceway annually since 2001, when Mike Norton won the title.
Main photo by Lime Jelly Photography. Other photos by Derrick Stephenson.
Motorsport is one of our specialist areas. See how we could help your race team, organisiation or related business.