We've been back in the training room this week – linking up with our friends Memorable Creative Journalism (MCJ) to run a media training day for nurses and officials at RCN (Royal College of Nursing) Wales.
The day included looking at different types of news media, why they might want an interview, and the all-important dos and dont's, before a series of on-camera interviews based on a realistic scenario. We also covered social media tips and a discussion on the pros and cons of having a high media profile.
The team of our senior consultant, Andrew Weltch (whose background is in print journalism and PR), and broadcast consultant, Mariclare Carey-Jones (a highly regarded broadcast journalist, who also runs MCJ Documentaries) hosted the sessions, with help from communications assistant, Sophie Platt.
We have many years' experience of media training, and the day was again very successful, with one delegate Tweeting:  "Enjoyed the training. Will be very useful for the future and in my role as an RCN steward."
As well as running media training for RCN Wales, we have organised sessions for business leaders, sports competitors and administrators, and educators in schools and universities.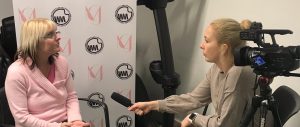 We always make sure the sessions are relevant and useful to those taking part, and many delegates find they are soon putting their new skills to use on TV, radio and in print.

Our media training days are designed to be affordable, useful, and fun. See what others have said, and check out this little video.