We're excited to announce that Weltch Media will be the sponsor of Laura Shaw for the 2019-20 season, as part of our continuing partnership with Torquay United Ladies FC.
Laura, originally from Manchester, is entering her second season with Torquay, having helped the team to survival in the South West Regional Women's League Premier Division last season.
A versatile, mainly left-sided, defender and midfielder, Laura produced some excellent performances in a very difficult season, and is regarded as a player of outstanding quality, determination and tenacity.
"I'm really happy to be sponsored by Weltch Media," said Laura. "They do a lot for the club behind the scenes – I'm grateful for their support and I aim to do them proud.
"Last season was tough for everyone – a real battle for survival – but there's a lot of optimism about this season, and we're really looking forward to it."
Laura, aged 27, originally played for teams in Manchester and Burnley, and in her late teens played for Salford as a left midfielder.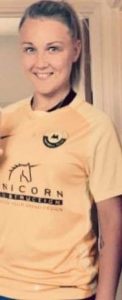 When she moved to Devon, she played for Paignton College and had trials for England Colleges. She also played for Liverton, Stoke Gabriel, Alphington, and Charlestown in Cornwall before joining Torquay last season.
Torquay United LFC will again be playing in the fifth tier of the women's game in England, in the Premier Division of the South West Regional Women's League.
Sport is one of our specialist areas. See how we could help you, your team or sports-related business.