We have been working with our friends Memorable Creative Journalism (MCJ) to produce a video promoting independent businesses in a Cardiff village.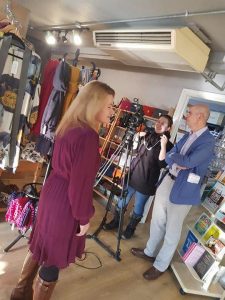 We were commissioned by Rhiwbina Village Events to help create the video, highlighting the range of places to eat, drink, shop, and be pampered in the historic suburb to the north of the city.
We brought in the broadcast experts MCJ to join us over two days (Thursday and Friday, October 18-19) to capture footage in shops, restaurants, salons and more.
Our senior consultant Andrew Weltch interviewed some of the shopkeepers and others to get their views on what makes Rhiwbina so special.
The video is now being edited and should be released online in November.