A book by our senior consultant Andrew Weltch has won praise from one of the people in it – two decades after it was published.
Images of Sport: Cardiff Devils came out in 2001, telling the story of one of the UK's most successful hockey teams in pictures and captions.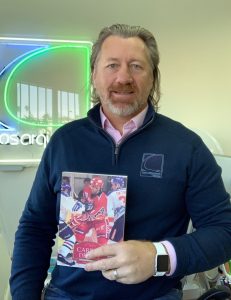 Now Ian Cooper, a star player with Cardiff from 1988-90 and 1992-98, has got in touch to say he has read the book and enjoyed it: "A great book with many photos I had not seen before. Good work, Andy!"
Ian helped the Devils to league and play-off championships, and was also a regular in the Great Britain team. He was inducted into the British Ice Hockey Hall of Fame in 2002, and now runs a property company in Spain.
Late last year (2020), former Devils coach Troy Walkington got in touch to offer his praise for the book.
Andy reported on the Devils for local newspapers and national magazines for many years.
He was asked to produce the book for Tempus Publishing, now part of The History Press.
Sport is one of our specialist areas, so if you're involved in sport and looking for PR or communications support, see what we offer.