Our Legends Car racer James Holman has described 2019 as "a season of progress" after clinching fourth place in the Irish Championship.
"We started off with an undeveloped car, and despite having a lot of bad luck, we achieved three podium finishes at Mondello Park and had genuine pace at the front to finish off.
"I would have liked to have tried it out in the dry properly at Mondello as I felt we might have even have nicked a win. But with some more improvements in the off-season, I think it could be possible to challenge for the title, but first off we need to get a win on the board!"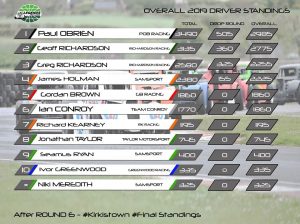 James is racing as part of the Samsport team in the fast-growing Irish Legends Car Championship. A former rookie of the year and championship runner-up in the hotly contested UK Legends Car series, Suffolk-based James switched to the Irish series to save costs.He finished runner-up in Ireland in 2016 and was fourth in 2018, a position he repeated this year.
Legends Car racing originated on the US oval tracks, and the cars have an American look, being 5/8-scale replicas of classic US models. Samsport Racing runs a Ford Coupe 1934 replica, with a 1250cc Yamaha motorcycle engine.
Plans for the 2020 season are already underway, with six new drivers expected to join the series.
The Samsport team is sponsored by Taylor's Antiques, Stillorgan Motors, and Walker Vehicle Rentals, with additional support from us at Weltch Media.
Motorsport is one of our specialist areas. See how we could help your race team, promotion or related business.