Our latest video is an action-packed preview of the 2018 West of England Hot Rod Championship at Mendips Raceway, near Bristol.
We are partnering with the raceway to present the event on holiday Monday, August 27th, bringing together the top drivers from around the South and West of England.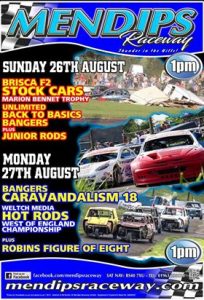 Hot rods look like road cars, but are highly sophisticated racing replicas, built around a spaceframe.
The video captures the kind of bumper-to-bumper racing which can be expected on the day, when the hot rods share the bill with banger racing (including caravans) and Reliant Robins figure-8 racing.
To see our videos and subscribe, go to our YouTube channel.
Motorsport is one of our specialist areas. See how we could help your race team, organiser or related business.