We are very pleased to announce Weltch Media's continuing support for Torquay United Ladies FC, as sponsor of  Danielle Wyatt for the 2018-19 season.
This will be Danni's fourth season with the Devon club, having helped the 'Gullettes' to a third place finish in the South West Women's Premier League in 2017-18, and scoring the goal of the season.
Last night (August 7th) Danni captained the team for the first time, and scored both goals in a 2-1 win over Alphington in a pre-season friendly game.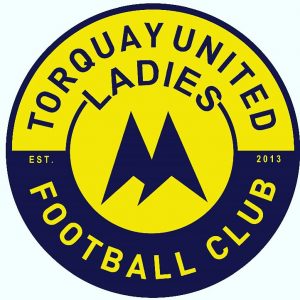 "I'm really pleased Weltch Media is continuing its support this season," said Danni. "Without the help from sponsors, I am unable to concentrate so much on playing and looking after the girls.
"I'm very proud to be representing Weltch Media who are based in Wales but operate around the UK and overseas. I hope I can have a successful season and do them proud once again."
The team has new management for the new season, and a largely new squad, again competing in the South West Women's Premier League.
"For me this season is all about a new experience," Danni added. "Even though it's my fourth season with the club, I'm really looking to building new relationships with the new squad we have put together, a new shirt number, a new playing position and a brand new state of mind.
"This club is personal to me – I'm here to make lifelong friends. I'm also here because I want to play great football. We're going to be successful here, because it's not just football and trophies for us, it's being a part of something we love, something we can share."
Sport is one of our specialist areas, so if you're involved in sport and looking for PR or communications support, see what we offer.