In another busy weekend, our sponsored player Danni Wyatt helped Torquay United Women to a 1-1 draw, became part of Torquay's first Her Game Too day, and sadly contracted Covid-19.
The draw was at home to Bishops Lydeard in the South West Women's League Premier Division yesterday (Sunday 28 November).
Danni started upfront in a 4-4-2 line-up – the formation which proved so successful in last week's 12-0 win over Bideford.
About 20 minutes in, she played the ball into the visitors' penalty box and our former sponsored player Jana Kate Richards made it 1-0.
Soon afterwards, Torquay was awarded a penalty, which Jana unfortunately put wide, leaving the score 1-0 at half time.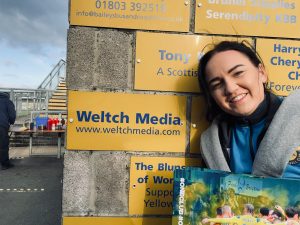 Danni came off in the second half – her nose was in pain from a suspected sinus infection, but a test later showed she had Covid-19.
With one of the last kicks of the game, Bishops Lydeard got the equaliser, leaving it 1-1.
"We were unlucky," said Danni. "We dominated much of the game and should have done better. But we take the point and look to next week".
The previous day, Danni was among the women and girls offered free admission to Plainmoor for Torquay United men's National League game against FC Halifax Town as part of the Her Game Too intiative.
United lost 3-2, but Danni found the best spot for a photo – next to our name on the ground's 'yellow brick road'.
We wish Dan a speedy recovery!
Sport is one of our specialist areas, so if you're involved in sport and looking for PR or communications support, see what we offer.