The multi-award-winning stage comedy Pride & Prejudice* (*sort of) by Isobel McArthur is touring the UK after a successful run in the West End.
It's playing at Cardiff's New Theatre this week (20-25 March), and our companion hyperlocal site Rhiwbina Info was there to review its opening night.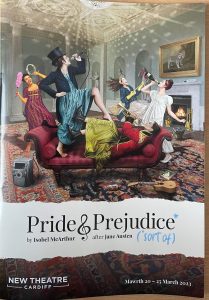 The reviewer, our senior consultant Andy Weltch, described it as "joyously entertaining."
He added: "It's a fast-paced, brilliantly staged, retelling of the 200-year-old story of the Bennet sisters and their mother's efforts to marry them off to rich husbands – and save the family from poverty.
"Whether or not you're familiar with the novel or any of the TV or film versions, you'll find it hard not to love this show. It's tremendous fun from start to finish, dazzlingly clever, and even romantic."
And he described the cast, Lucy Gray, Dannie Harris, Leah Jamieson, Megan Louise Wilson, and Ruth Brotherton, as "bursting with talent".
Pride & Prejudice* (*sort of) is in Cardiff until Saturday, when its tour moves to Nottingham.
You can read the review here.
Programme image by John Good Ltd.
Arts and entertainment are among our specialities. If you're involved in this sector, contact us to find out how we could help you.