Our sponsored player Danni Wyatt has described the "magnificent day" when Torquay United Women played on the big stage at Plainmoor yesterday (Sunday 19 March), beating Sherborne 2-1 to edge closer to the league title.
"It was a magnificent day from start to finish," said club captain Danni. "I'd like to thank the directors and all staff and volunteers at the club who made today possible. We really hope we did them all them proud".
Torquay went ahead through Esme Kilburn-Thompson after 15 minutes, and Connie Pengelly extended the lead in stoppage time at the end of the first half. Elisha Jacks scored for the visitors four minutes after the break, and the game ended 2-1.
"We're still pushing and still chasing results and will continue to push until the end," said Danni, who is also assistant manager. "Today's game was a great showcase for women's football in the South West League and to play today in front of 400-plus supporters we couldn't have asked for more.
"I was glad to get on in the second half and get involved in some link-up play and help the girls to seal the three points in the end. My favourite thing to do on a Sunday!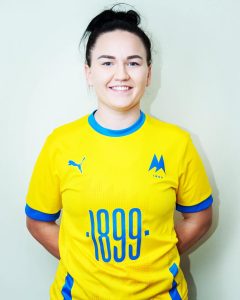 "Hats off to Emma Ayres in the sticks today who produced some magnificent saves as we've seen her grow into her role at this club. May it long continue. Thank you, Yellow Army. from the bottom of my heart!"
Torquay now need four points from their remaining two games to be sure of the South West Women's League Premier Division title, and promotion to the fourth tier of the English league structure.
This was the first time the women have played at the historic Plainmoor ground for several years. To mark the occasion, there was even a souvenir programme – and article by Danni.
Weltch Media first sponsored Danni in the 2017/18 campaign, when she helped Torquay to third place in the South West Regional Premier Division and to the final of the Devon Cup and won the goal of the season award.
Last season she helped Torquay to a sensational victory in the Devon FA Cup Final and was named club player of the season.
In 2020, she was among our friends who featured in the popular comedy promo video With a T. 
Sport is one of our specialist areas. If you're involved in sport, business, or education and looking for PR or communications support, see what we offer.