Top-level speedway has become an annual fixture on Cardiff's sporting calendar, and as the 2018 Adrian Flux FIM British Speedway Grand Prix gets under way in the Principality Stadium on Saturday [July 21st], it will be 90 years since the sport arrived in the city.
Cardiff's first speedway meeting took place at the end of 1928 – on Boxing Day, at the old White City Stadium on Sloper Road.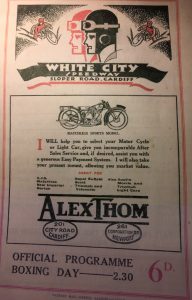 The sport was an instant hit – 25,000 attended that first event – and continued in the city into the 1930s.
It was revived in the 1950s, with the launch of the Cardiff Dragons team, and since 2001, Cardiff has hosted Britain's round of the FIM Speedway World Championship, the British Grand Prix.
Our senior consultant, Andrew Weltch, author of the history of Speedway in Wales, has looked back at how it began in our latest blog post. You can read it here.
Main picture of the Adrian Flux British Speedway Grand Prix by Composed Images.
Involved in motorsport? It's one of our areas of expertise – maybe we can help you.