It's winter 1980. Frank Galvin is a washed-up, low-rent lawyer in Boston, who scratches a living chasing ambulances and hassling funeral homes.
He's losing his family and will soon lose what's left of his business. But he's presented with one last chance to redeem himself with a big medical malpractice case that no one thinks he can win.
It's a classic underdog story – no-hope lawyer fighting for a young woman condemned to a vegetative state by negligent doctors at a hospital owned by the powerful Catholic church and defended by the city's most expensive and unscrupulous legal team.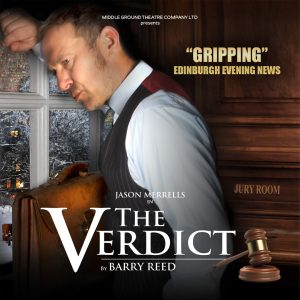 This is The Verdict, a play adapted from Barry Reed's best-selling novel for Middleground Theatre Company and now touring the UK.
Our companion hyperlocal site Rhiwbina Info was at Cardiff's New Theatre this week (Tuesday 24 January) for the opening night of its spring tour.
The reviewer, our senior consultant Andy Weltch, described it "a brilliantly packaged courtroom thriller" and praised the central performances of Jason Merrells, Reanne Farley and Richard Walsh.
The Verdict is in Cardiff until Saturday (28 January), when the tour moves to Southend.
You can read the review here.
Arts and entertainment are among our specialities. If you're involved in this sector, contact us to find out how we could help you.