Torquay United Ladies FC face Plymouth Argyle Ladies in the Devon Cup Final on Friday, and our sponsored player Danielle Wyatt believes the Yellows could spring a surprise.
"I am filled with pride to pull on a Torquay United shirt and play in this County Cup Final against Plymouth Argyle," she told us. "Argyle mustn't be complacent – I genuinely believe they will be in for a shock. May the best team win!"
Torquay have had a successful season in the South West Women's Premier League, but the bad weather in the West Country in recent months has meant a lot of games being postponed, leaving a huge fixture backlog.
In the final, played at Devon FA's headquarters in Newton Abbot, on Friday [April 6th], they face Cup favourites Plymouth, who play in the higher level Women's Premier League South West Division 1.
"With the past few games lagging a lot with the great British sunshine, it's been extremely hard to stay motivated," added Danni. "But I've done well, spirits are high, head is screwed on and attitude is just right to head into the biggest showcase in Devon for women's senior football."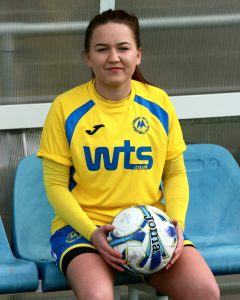 Although still recovering from a collarbone injury, she remains characteristically positive: "I have been training, my shoulder isn't as strong as it once was but I'm still working on that. It doesn't affect my feet or my mind so I'm ready to play."
Player-manager Vicki Fannon is also looking forward to the challenge of facing a strong Argyle team, who play in the fourth tier.
"We are very excited for Friday," she told us. "We have nothing but respect for Argyle and are looking forward to a tough test. Of course they are favourites –  they play in a higher league than us and have some phenomenal players. However anything can happen in the cup and it all comes down to who's more hungry on the night.
"I am delighted to be manager of this group of girls, and Danni as a Weltch Media player, the attitudes and work rate of some of these girls is all I can ask. It's been frustrating lately with the amount of games called off due to the weather, it's hard to get into a rhythm but we will be ready and raring to go on Friday!"
The Westward Developments Devon Cup Final is at Devon FA headquarters, Coach Road, Newton Abbot, TQ12 1EJ, on Friday April 6th, kicking off at 7.15pm. There will be an admission charge on the gate.
If you can't make it, the game will be broadcast live on the Devon FA Facebook page.
Are you involved in sport? It's one of our specialist areas. Maybe we can help you?