Our friends Torquay United Women secured another preseason victory yesterday (Sunday 22 August) with a 6-0 win at Cardiff Bluebelles.
Weltch Media-sponsored Danni Wyatt, still recovering from her recent hip injury, played the full 90 minutes on the artificial surface at Cardiff University Playing Fields and came close to scoring.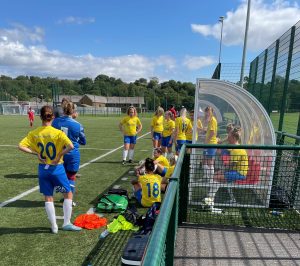 This is the second Welsh team Torquay has faced in preseason, having lost 3-1 at home to Welsh Premier Women's League Champions, Swansea City, last month. Bluebelles play in tier two of the Welsh system, while Torquay is in England's fifth tier.
Rhi Bailey put the visitors ahead when she scored directly from a free kick, after Danni was fouled. And she added a second with a long-range shot that looped over the Cardiff goalkeeper, but had to be substituted after suffering an injury.
Beth Everson linked with Danni to score the third, making it 3-0 at half-time.
After the break, captain Daisy Self (who was previously sponsored by Weltch Media) saw an opening from wide and scored from the edge of the box. And minutes later, she connected with a free kick to head home her second.
Daisy completed her hat-trick and the scoring with a shot that bounced in off the keeper to make it 6-0.
Our Andy Weltch named her player of the match, but said it was a difficult decision with so many excellent performances.
Danni commented: "It was great to get another run-out today, felt good to get another 90 minutes in my legs – three games in seven days is not something I could have managed last season, but I'm feeling great and really excited for the season to start.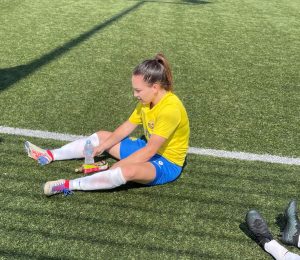 "Today's game was another solid performance from the girls, and I love having the opportunity to play alongside them every week – another great result and we keep building".
Torquay faces Plymouth Argyle in another preseason game next weekend before beginning the South West Women's Regional League Premier Division campaign.
Sport is one of our specialist areas, so if you're involved in sport and looking for PR or communications support, see what we offer.