We are excited to announce a new motorsport partnership for 2019, which sees Weltch Media teaming up with experienced Legends Car racer James Holman.
James is racing as part of the Samsport team in the fast-growing Irish Legends Car Championship, which gets underway at Kirkistown circuit, County Down, on Saturday (April 27th).
A former rookie of the year and championship runner-up in the hotly-contested UK Legends Car series, Suffolk-based James switched to the Irish series to save costs.
He finished runner-up in Ireland in 2016 and was fourth last season, despite missing the opening round due to the birth of his son.
"My wife, Sam, is from Ireland – in fact her dad, Ed, runs the series, so it's a great opportunity for her to see her family, and it's exciting to be able to help grow the series over there," said James.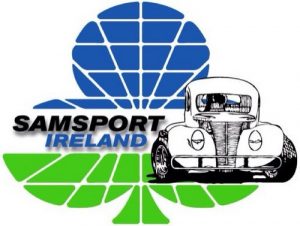 The 2019 series features seven rounds at Kirkistown and Mondello Park, where James holds the lap record, as well as a non-championship visit to Anglesey in North Wales.
James is also hoping to gain sponsorship to enable him to take part in the UK series event at Snetterton in September.
Legends Car racing originated on the US oval tracks, and the cars have an American look, being 5/8-scale replicas of classic US models. Samsport Racing runs a Ford Coupe 1934 replica, with a 1250cc Yamaha motorcycle engine. Samsport also has cars available to rent or buy.
The partnership will involve Weltch Media providing a PR service for James throughout the season, and follows the news that we are also teaming up with Mendips Raceway to present the first Weltch Media West of England Slick Cars Championship.
Motorsport is one of our specialist areas. See how we could help your race team, promotion or related business.