Huge congratulations to our sponsored player Danni Wyatt and her Torquay United Women teammates, who defied the odds to win the Click Hub Devon Premier Cup in a penalty shootout last night (Friday 22 April).
With no recognised goalkeeper, Sasha Mole wore the gloves for Torquay last night, and earned the player of the match award for a stunning performance, which included saving two penalty kicks and scoring one herself.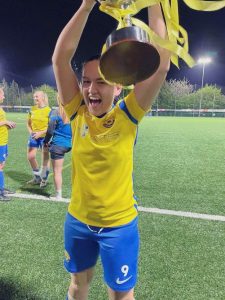 Higher-level opponents, Exeter City, were tipped to take a comfortable win under the floodlights at Devon FA HQ in Newton Abbot, but Torquay – under caretaker manager Steve Elswood –  held them to 0-0 at half time, and saw off further attacks after the break.
Our Danni Wyatt came off to the subs' bench to replace hard-working Ellie Bishop 27 minutes into the second half, and it remained 0-0 until the 86th minute, when Connie Pengelly fired home for Exeter.
Torquay put three players, including Danni, into attack, and the pressure paid off when they were awarded a penalty late in added time. The resulting goal left it 1-1 at the whistle and straight into a penalty shootout.
Danni scored hers, and the nail-biting exchange ended in a 5-4 win for United – the first time Torquay has won the trophy.
We first sponsored Danni Wyatt in the 2017-18 season, and she also featured in our popular With a T promo video during lockdown in 2020.
Sport is one of our specialist areas, so if you're involved in sport and looking for PR or communications support, see what we offer.