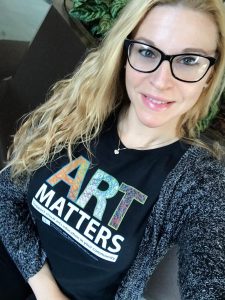 Our Andy Weltch's recreational running in Cardiff has prompted a high school art project thousands of miles away in New Jersey.
The unlikely connection involves a flat-foot support group on Facebook and artist and teacher Jana Dandrea (pictured) being captivated by images of the Welsh capital.
The story is told in the latest post on our companion arts and entertainment blog Piece of Pink Pie.
Arts and entertainment are among our specialities. If you're involved in this sector, contact us to find out how we could help you.