A new book tells the fascinating story of Gareth Jones, a pioneering investigative journalist, who was murdered in Mongolia in 1935, at the age of 29.
Gareth Jones is a national hero in Ukraine for being the first reporter to reveal the truth about the Holodomor – the 1932-33 genocide inflicted on Ukraine by the Soviet Union, which killed more than four million people.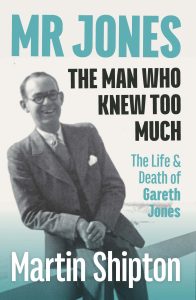 Weltch Media has played an important part in the publication – publisher Welsh Academic Press invited us to help at the proofreading stage.
Drawing upon Jones's articles, notebooks and private correspondence, Martin Shipton, political editor-at-large at Jones's former newspaper, the Western Mail, reveals the remarkable yet tragically short life of this intriguing Welsh journalist.
St David's Press has often used our services in the past, reassured by our skill and experience – and our ability to meet tight deadlines.
We recently worked with them on the autobiography of dual-code rugby international Steve Fenwick and other sports titles.
Mr Jones: The Man Who Knew Too Much – the Life and Death of Gareth Jones by Martin Shipton is published by Welsh Academic Press at £19.99.
If you need help with editing or proofreading, please get in touch, and check out this short video about our editorial services.