Our Legends Car racer James Holman fulfilled his goal of a top-10 finish when he opened his International League of Legends sim racing campaign this week (Thursday May 14th).
After missing the opening round last week because of computer problems, James said he'd be happy if he could finish in the top 10 at the second round on the twisty and challenging Ahvenisto circuit in Finland.
Having qualified 10th, he made a mistake at the first corner of race 1, and found himself facing the wrong way at the back of the field. He recovered well to finish 13th but was later docked to 15th for his part in the first lap incident. He went on to finish 10th in race 2, earning his first points of the six-round series.
"It wasn't the start I wanted, but I was happy with a reasonable recovery in that race and I had better pace than a few in front of me including the guy who came third," said James. "So, if I'd have been in the reverse grid mix who knows?"
Both races on Thursday were won by Julien Schein from Belgium. The races were shown live on Facebook, YouTube, and Motors.tv. Next week the series moves to the Knutstorp circuit in Sweden for round three.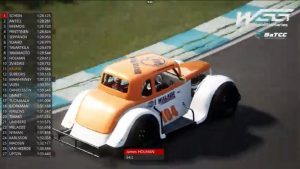 Drivers from many classes are currently taking part in sim racing, while real racing is on hold because of the coronavirus pandemic.
The series run by BaTCC – Baltic Touring Car Championship – also includes drivers from Finland, Sweden, Latvia, Georgia, Denmark, Belgium, USA, and South Africa.
In real-life racing, James competes as part of the Samsport team in the Irish Legends Car Championship, with sponsorship from Walker Vehicle Rental and support from us at Weltch Media.
A former rookie of the year and championship runner-up in the hotly contested UK Legends Car series, he finished runner-up in Ireland in 2016 and was fourth in 2018 and 2019.
Legends Car racing originated on the US oval tracks, and the cars have an American look, being 5/8-scale replicas of classic US models.
Motorsport is one of our specialist areas. See how we could help your race team, promotion or related business.