Our race driver James Holman is taking to the track again – carrying the Weltch Media logo in an international sim-racing Legends Car series, starting this week.
The Dublin-based Englishman finished fourth in the Irish Legends Car Championship last season, but with this year's series on hold because of the coronavirus crisis, his attention has switched to online sim (simulated) racing.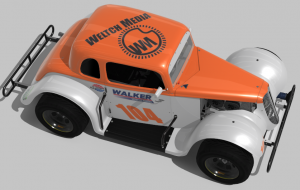 Last week, he finished third in a hotly contested TCR Touring Car event at a simulated Snetterton circuit, and now he is gearing up to go Legends Car racing again.
Along with David Yamamoto, he will be one of two drivers representing the Irish championship in an international series run by BaTCC – Baltic Touring Car Championship – which hosts a real-life Legends championship in the Baltic states.
The online series, which starts on Thursday (May 7th) also involves drivers from Finland, Sweden, Latvia, Georgia, France, Denmark and Belgium.
But James is already facing a setback. "My PC broke," he explained. "Thankfully, I found a shop that was open, but they're saying I might have it back by Thursday – so testing will be limited.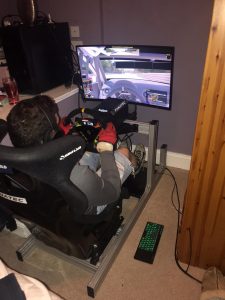 "I did a few laps before it broke and was 10th quickest.
"I'm still trying to dial in the wheel settings on Assetto Corsa – the platform that it's on, a bit different from iRacing. To be honest, the first round might be a write-off for me – more about getting some track time and experience, rather than being seriously competitive."
In real-life racing, James competes as part of the Samsport team in the fast-growing Irish Legends Car Championship, with sponsorship from Walker Vehicle Rental and support from us at Weltch Media.
A former rookie of the year and championship runner-up in the hotly contested UK Legends Car series, he finished runner-up in Ireland in 2016 and was fourth in 2018 and 2019.
With Ireland less badly affected than the UK by the coronavirus crisis, there are hopes that the 2020 championship could start in the summer.
Legends Car racing originated on the US oval tracks, and the cars have an American look, being 5/8-scale replicas of classic US models.
Motorsport is one of our specialist areas. See how we could help your race team, promotion or related business.