Kelsey Gentles helped her new team York City Knights Ladies to a thrilling 30-24 victory over mighty Wigan Warriors yesterday [Sunday 9th May].
Our sponsored player's move from Castleford Tigers was announced on Friday as part of a 'Super Seven' line-up of new names in the Knights squad.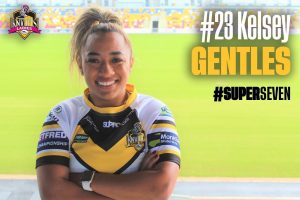 The others were Grace Field (who scored three tries yesterday and was named player of the match), Sinead Peach, Rhiannion Marshall, and Tamzin Renouf, all from Castleford, and Savannah Andrade and Olivia Wood, both from Bradford Bulls.
With Kelsey at full back, York took an early lead and it was 18-18 at half-time, with the result uncertain until the final whistle. The game was broadcast live by The Sportsman and there's a match report and highlights here.
Kelsey told us: "I'm so proud of the girls after their performance this weekend. We really had to work hard against a structured Wigan side who tested up right to the final minute, but for the girls to put on a performance like that after such a hectic week is incredible!
"Very proud to be a York City Knight right now!"
York will face Kelsey's former club Castleford in the semi-final.
Main photo shows Kelsey with the ball during Sunday's game. Photo by Andy Nelson Sports Photography.
Sport is one of our specialist areas, so if you're involved in sport and looking for PR or communications support, see what we offer.