Laura Shaw, our sponsored player at Torquay United LFC, is urging other young women in sport not to give up, even when faced with unexpected challenges.
Laura, who was recently diagnosed with ME (myalgic encephalomyelitis), sometimes known as chronic fatigue syndrome, said the news came as a terrible shock.
"I'm still finding it hard to accept," she said. "It has made football a lot more challenging, as I am very weak and also in a lot of pain with my legs, joints and muscles, at the end of a game.
"But I will never give up on something I love because this is all I have to help me carry on with normal life!
"For everyone who has a similar diagnosis, I know that fight is difficult, and you may want to just give up, but heart and passion is not something we give up on easily and we will get through it. It just takes that bit of extra time to get us there!
"My message to people in similar circumstances is: You are not alone. Support is near. Never give up!"
***
Originally from Manchester, 27-year-old Laura is in her second season with Torquay, having helped the team to survival in the South West Regional Women's League Premier Division last season.
She played for teams in Manchester and Burnley, and in her late teens played for Salford. When she moved to Devon, she had trials for England Colleges while playing for Paignton College.
A versatile, mainly left-sided, defender and midfielder, Laura produced some excellent performances in a very difficult 2018-19 campaign, and is regarded as a player of outstanding quality, determination and tenacity. She is a goal-scorer too, and got on the scoresheet in United's 3-0 win over RNAS Culdrose in the recent Women's FA Cup tie.
***
It has been a difficult start to the season for Torquay, with some big defeats, but Laura remains positive about the club.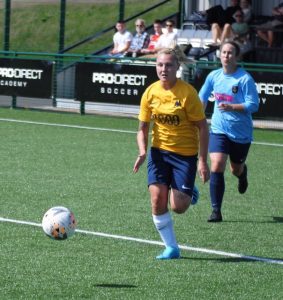 "The good thing about Torquay is we are a happy and supportive team, but we just sometimes lack confidence, fight and passion. Everyone needs to understand how important it is for Torquay to rise back from the bottom.
"I Just want everyone to enjoy the games and to put our hearts and soul into playing for this club.
"We really do appreciate support from the crowd and family members who come watch, and it would be fantastic if we could get more," she added. "Even if we do lose, I think more support would boost our confidence and raise spirits in the team."
***
Reflecting on her own experience, Laura said: "I have played football throughout my teens and my 20s, and now I'm getting to 28 years old and I still want to progress.
"I have suffered bullying in the past, and I have doubted myself so much over the years and lacked confidence, because people gossip about you and make your life miserable. I have let that all get to me I have never been able to get where I wanted to be.
"But from this season on, I will not let negativity win. I'm still determined to play at a higher level, and because I have love, passion and drive, I will never give up on something I have dreamt of since a little girl.
"Football is everything to me – it helps me mentally and physically. That is more true now, following my ME diagnosis, than it ever was.
"I want young women who have similar illnesses or are suffering in other ways to be able to tell their stories as well, and make people aware that everyone is fighting through something personal. If we stop bullying and support each other, we can achieve our goals."
Photos of Laura in action for Torquay against RNAS Culdrose by Guy Pallett
Sport is one of our specialist areas. See how we could help you, your team or sports-related business.