Our race driver James Holman returns to the track this week, as he joins the international sim-racing League of Legends series, with an event in Finland.
James missed last week's opening round at Bikernieki in Latvia because of computer problems, but is due to join fellow (real-life) Irish Legends Car Championship contender David Yamamoto for Thursday's event on the Ahvenisto circuit.
The series run by BaTCC – Baltic Touring Car Championship – also includes drivers from Finland, Sweden, Latvia, Georgia, Denmark, Belgium, USA, and South Africa.
"I'm looking forward to it, but not really expecting much," said James, and Englishman now based in Dublin. "I'm two seconds off the quickest time – tried all kinds of setups, all roughly coming out in the same time.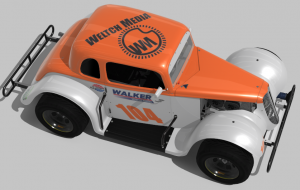 "I spent an hour driving last night and found 6/100ths of a second! If I get top 10 I'd be delighted to be honest. I'll try to fiddle around with some more software settings in case it's a problem there. The track looks good – I would love to go there in real life!"
Drivers from many classes are currently taking part in sim racing, while real racing is on hold because of the coronavirus pandemic.
Last week's opening round was won by Anders Antell (Finland), ahead of Markku Yliaho (Finland), and Julien Schein (Belgium).
In real-life racing, James competes as part of the Samsport team in the Irish Legends Car Championship, with sponsorship from Walker Vehicle Rental and support from us at Weltch Media.
A former rookie of the year and championship runner-up in the hotly contested UK Legends Car series, he finished runner-up in Ireland in 2016 and was fourth in 2018 and 2019.
Legends Car racing originated on the US oval tracks, and the cars have an American look, being 5/8-scale replicas of classic US models.
You can watch Thursday's races live and free on the BaTCC Facebook page. Look out for James in the orange and white car 104, with the Weltch Media logo.
Motorsport is one of our specialist areas. See how we could help your race team, promotion or related business.