We had a busy day delivering advanced in-person media training to senior managers at Royal College of Nursing (RCN) Wales last week [Friday 25 November].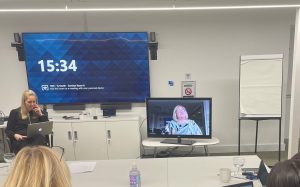 Our long-time friend and broadcast consultant Mariclare Carey-Jones hosted the day-long training session, along with our Andy Weltch and Mark Hawkins.
We used a developing scenario to put the RCN Wales top team through a range of increasingly challenging interviews from radio and press to TV, a down-the-line Zoom interview and a press conference.
The advanced media training day builds on our introductory media training sessions, which we offer online or in-person. The advanced day can involve a developing crisis or any scenario to suit the client.  To find out more,  please email us info@weltchmedia.com
Our training is designed to be affordable, useful, and fun. See what others have said, and check out this little video.
We also now offer copywriting training online to help you and your team get the words just right for your website, blogs or publications.
Check out our range of services here.