Our popular media interview training service, run in partnership with our friends Memorable Creative Journalism (MCJ), is contuining to prove a hit online.
We ran a fourth session for RCN Wales via Zoom this week (February 1st), after sessions last year and in summer and autumn 2020.
The half-day was hosted by our senior consultant Andy Weltch and broadcast consultant, Mariclare Carey-Jones.
A condensed version of our in-person full-day experience, it included hints and tips, a look at how the media is dealing with the 'covid' world, and one-to-one media interviews via Zoom, as if for TV.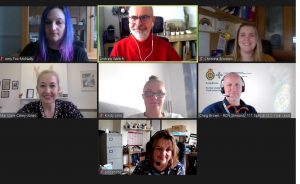 One of the delegates, Kirsty John, told us: "I found the session very informative and gave me lots of information and made me think of things I never would have thought of!
"I feel so much more confident going into interviews and because of this have just agreed to do an interview with a film crew for the prison service next week and because of the training I am aware of what to do prior to this."
We always make sure the sessions are relevant to those taking part, and many participants – like Kirsty – find they are soon putting their new skills to use on TV, radio, online and in print.

Our media training is now available via Zoom to all clients. If you'd like to know more, please email us info@weltchmedia.com
Our media training is designed to be affordable, useful, and fun. See what others have said, and check out this little video.