Commiserations to our sponsored player Danni Wyatt and Torquay United Women, who lost a hard-fought FA Cup tie at Bournemouth Sports yesterday (Sunday 27 November).
It was the first time the team had reached the second round proper, and to lose 3-2 away was an achievement in itself. Torquay's scorers were Becky McMullen and Ellie Bishop.
"It was a tough loss to take," said Danni. "But in hindsight our preparations go back into the league where we are lagging behind on games played, an opportunity to chase down promotion and that top spot.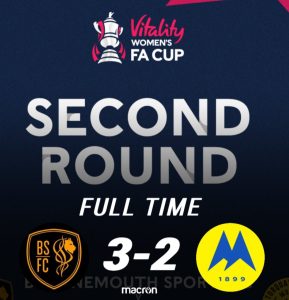 "Some excellent new signings have bolstered the squad and we have more confidence than ever, a record breaking year for us in yellow and it's about time we broke one more record and won the South West Regional Premier Division title. Our eyes are set on National League and we're not giving up!
"My knee held up really well [Danni has just returned from injury], I'm still getting strength back in there, and my body took to a bit of a shock yesterday after some time off. But I will continue to work to do my bit for the team and as a team we will do everything we can for one another."