A new book offering an essential introduction to Irish politics is publshed this week – and Weltch Media played an important part.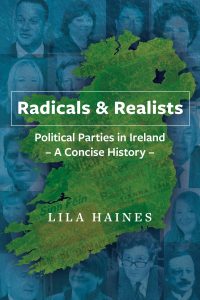 Radicals and Realists by Lila Haines analyses the political parties that have influenced the history of pre- and post-partition Ireland.
The rigorously researched guide provides concise histories of the island's 12 most significant political parties, covering their ideals and deals, clashes and collaborations, and splinters and mergers.
We played a vital part in the publication – publisher Welsh Academic Press invited us to help at the proofreading stage.
Welsh Academic Press and its partner imprint St David's Press have often used our services in the past, reassured by our skill and experience – and our ability to meet tight deadlines.
We recently worked with them on a biography of pioneering Welsh journalist (and hero in Ukraine) Gareth Jones and on the autobiography of dual-code rugby international Steve Fenwick and other sports titles.
Radicals and Realists – Political Parties in Ireland: A Concise History by Lila Haines is published by Welsh Academic Press at £19.99.

If you need help with editing or proofreading, please get in touch, and check out this short video about our editorial services.