A new autobiography by dual-code rugby international Mark Jones recounts his on-field achievements and controversies, as well as his off-field struggles with a debilitating stammer, which often left him feeling misunderstood and angry.
Fighting to Speak covers a remarkable career, in which he was sent off six times and banned for over 33 weeks for violent conduct.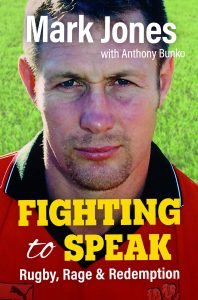 A Wales international in union and league and Great Britain RL forward, he played for Tredegar, Neath, Hull, Warrington, Ebbw Vale, Pontypool, and Aberavon ‒ but he was desperately unhappy and detested the thuggish reputation he'd created.
The book came out last year (2022), and publisher St David's Press then invited us to proofread the text and make further improvements for a second edition, initially being released as an eBook next week (1 February).
St David's Press and its partner imprint Welsh Academic Press often use our services, reassured by our skill and experience – and our ability to meet tight deadlines.
We recently worked with them on a guide to Irish politics, a biography of pioneering Welsh journalist (and hero in Ukraine) Gareth Jones, and on the autobiography of dual-code rugby international Steve Fenwick.
Fighting to Speak – Rugby, Rage & Redemption is published by St. David's Press in paperback, priced £13.99.
If you need help with editing or proofreading of any publication in print or online, please get in touch, and check out this short video about our editorial services.