Our sponsored rugby league player, Kelsey Gentles of Castleford Tigers Women, is keeping busy while the rugby season is on hold – facing the challenge as a key worker in retail for a Co-op in Leeds. She even had a basket thrown at her by an angry customer!
After playing for Yorkshire in the pre-season Origin series, Kelsey and her Castleford team-mates have been unable to start their Super League season, with all sport on hold because of the coronavirus pandemic.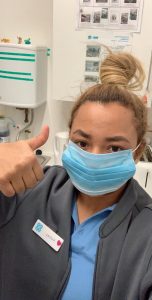 Because of the crisis, and the need to ensure people have access to food and other vital supplies, Kelsey has switched from working two days a week to full-time: ten-hour shifts, six days a week.
"Work is very hard, and I'm working all hours because a lot of people aren't working," she told us.  "It's nice when people appreciate what we're doing, but some customers are nicer than others!"
In an interview with Seb Sternik for the Castleford Tigers website, she explained how one angry customer threw a basket at her:
"We just got a delivery in the store. All the hours have changed because we basically need more stock. The customer came in saying 'you've got no flour, you've got nothing in the aisles, you've got nothing in the store.' Bear in mind it's 7pm. We've just had a delivery; you need to give us time.
"Now we started to close the store at 8pm instead of 11. We changed all the store hours to try get the delivery out and the customer was like 'go look in the back, go look in the stock'! I went to look for it, I came out, we didn't have any so I suggested to look in another supermarket and she just threw the basket at me. I've got rugby to thank for my good reactions, so I just caught the basket in my hands. If I didn't have hand eye coordination I would have been done for. But that is just a typical thing to happen to you at the moment."
Kelsey, aged 21, was a nominee for 2019 Telegraph Woman of Steel – the player of the year in Women's Super League – after helping Castleford to the League Leaders Shield and to both the Challenge Cup final and Super League Grand Final.
She played for England in the World Cup 9s in Australia and she was also on England's tour of Papua New Guinea last year.
We are pleased to be co-sponsoring Kelsey alongside Atkinsons Fencing and Castle Commercial Cleaning Services.
Last summer, Weltch Media became the official hydration partner of Devon Sharks rugby league team. For 2020, in motor sport, we have also renewed our partnership with James Holman in the Irish Legends Car Championship and in soccer we're the player sponsor of Laura Shaw at Torquay United Women AFC.
Sport is one of our specialist areas. See how we could help you, your team, or organisation.