Our co-sponsored rugby league player Kelsey Gentles of Castleford Tigers Women reports she is recovering well from her shoulder surgery.
"I had my first physio session last week and I was hitting all my targets for range of movement so it's looking promising," the 21-year-old winger told us.
"I also went back to the gym last week so that was good – only walking on the treadmill and using the bike, but it's a start!"
Before her operation last month, Kelsey celebrated her roots on Jamaican Independence Day, and attended the club training session in the green, yellow and black national colours of her father's home country.
"I am really proud of being half Jamaican," she told Seb Sternik for Total Rugby League. "I'm just as proud of being Jamaican as I am being British.
"It's a really good day for everyone who's Jamaican and for everyone who shares that heritage. It's a time for all of us to come together. In Leeds we've got a large Jamaican and Caribbean community so we're all celebrating.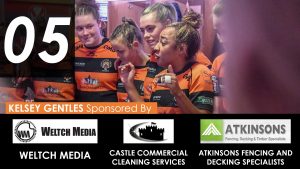 "Being Jamaican is something that I'm really proud of and my family are really proud of. My dad has always made sure that me, my brothers and sisters have known about our heritage from a really young age."
Kelsey hopes to be playing in next year's World Cup for England women, but in the men's competition, she'll be following the fortunes of Jamaica as well as England too.
Kelsey was top try scorer and Tigers supporters' player of the year last season, and was a nominee for Telegraph Woman of Steel (the player of the year in Women's Super League) after helping Castleford to the League Leaders Shield and to both the Challenge Cup Final and Super League Grand Final.
She was also part of the England team which competed in the 2019 World Cup 9s in Sydney and the tour of Papua New Guinea.
Kelsey appeared in our comedy promo-video With a T, and has been a key worker in retail during the height of the pandemic. With the 2020 season cancelled because of the virus, our support will continue into 2021, as co-sponsors of Kelsey, alongside Atkinsons Fencing and Castle Commercial Cleaning Services.
Sport is one of our specialist areas. See how we could help you, your team, or organisation.