Our international modelling client Rahab Inghalwa has launched a non-profit organisation to promote quality education and raise awareness of climate change among marginalised communities in her native Namibia.
The Worthy Youth Foundation (WYF) aims to provide study aids and basic needs, as well as sanitary products to reduce school absence among girls.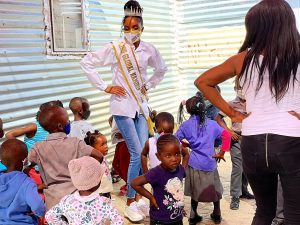 Rahab said the foundation was a way for her to give something back. She told The Namibian: "For me, modelling is not just a job, but a platform exposing me to different people and cultures. Some of the people we met are from marginalised backgrounds, and it is right that I use my position to do positive things, educating, and inspiring my generation."
Her most recent activity with WYF was a visit to Mercy Kindergarten in the Havana informal settlement in Windhoek, where she hosted a soup kitchen.
Meanwhile, Rahab's commercial success has continued with her fashion brand Ravenda Posh now launching a beauty line. Posh Beauty goes live in June, initially with four shades of lip gloss.
Rahab launched Ravenda Posh in her native Namibia three years ago, since when the business has developed into a worldwide online boutique.
She told us Ravenda Posh, as on online business, has been able to operate throughout the pandemic and build on its success.
Rahab is due to represent Nambia in the Miss Global 2021 competition. "I'm really honoured to represent my country at the finale in Indonesia later this year," she said. "I'm just so blessed and lucky to be back on stage and modeling once again after a year of lockdowns and the pandemic."
You can browse the Ravenda Posh collection here.
If you're involved in business, in the UK, Namibia, or anywhere else, you could benefit from our expertise.
Look at the ways we could help you.