Blackeyed Theatre's production of Sherlock Holmes – The Valley of Fear concludes its eight-month UK tour this week (26 May).
Our companion hyperlocal site Rhiwbina Info was at the opening night of its final stop-off in Cardiff last night (Wednesday).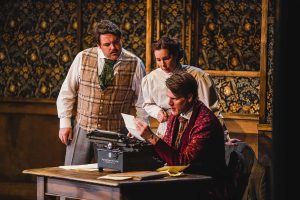 Reviewer, Andy Weltch, described it as "an absolute triumph", adding "it's an intriguing story, cleverly told, perfectly paced, and with engaging characters".
He praised the "brilliant adaptation" by Nick Lane and the "outstanding and hardworking cast" of just five "talented and versatile" performers (Luke Barton, Joseph Derrington, Alice Osmanski, Blake Kubena, and Gavin Molloy), who play more than 20 roles between them!
The Valley of Fear is at the New Theatre, Cardiff until tomorrow (Friday 26 May).

You can read the review here.
Arts and entertainment are among our specialities. If you're involved in this sector, contact us to find out how we could help you.

And be sure to check out our companion arts and entertainment blog Piece of Pink Pie.