Our national hot rod racer Mark Shelper has missed out on qualifying for the world championship final by one place in the points table.
A disappointng day in the last qualifying round at Hednesford Raceway in the Midlands yesterday (Monday 29 May) saw him fail to finish any of his three races. That meant he stayed 17th in the English championship, with the top 16 going to the final.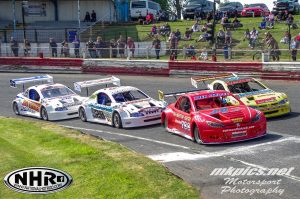 "It was a terrible day," said Bristol-based Mark. "The axle arm snapped in heat 1, and the brakes failed in heat 2. They started fading again in the final, so I pulled off as I wasn't getting anywhere anyway.
"It's disappointing, but well done to everyone who qualified – it takes a lot of sustained effort to get through."
He added: "Thanks to everyone who's helped us this year, to Weltch Media for sharing our news and results, and everyone that's come to support us – thanks again!"
Mark made headlines in 2022 by being the only driver from the South West to qualify for the world championship final.
National hot rods are the top level of short track racing in the UK, with sophisticated lightweight production car replicas producing around 240bhp.
Photos: Mark's Peugeot (788) in action at Hednesford yesterday by Martin Kingston