A powerful new version of a Shakespeare classic is touring selected UK theatres.
The Merchant of Venice 1936 switches the story to London's East End during the Great Depression, as fascism sweeps across Europe and anti-semitism takes a hold in Britain's capital too.
It plays at Cardiff's New Theatre this week, and our companion hyperlocal site Rhiwbina Info was at its opening night last night (Tuesday 31 October).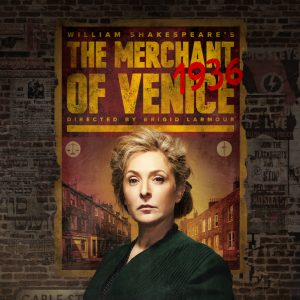 Reviewer Andy Weltch said "Tracy-Ann Oberman is mesmerising as Shylock – in this ingenius version, a devoted single mother and hard-working businesswoman in the Jewish community of Cable Street".
He added: "This is a stunning adaptation, which I would urge you to see – not just as an exciting new version of a sometimes 'problematic' play, or as a brilliantly performed piece of theatre, but also for the light it shines on the scourge of antisemitism. Sadly, it's as relevant today as it was in 1936 when it's set and the 1590s when it was written".
The Merchant of Venice 1936 is at the New Theatre until Saturday, when the tour moves to Wilton's Music Hall, London.
You can read the review here.
Arts and entertainment are among our specialities. If you're involved in this sector, contact us to find out how we could help you.

And be sure to check out our companion arts and entertainment blog Piece of Pink Pie.