Our sponsored player Danni Wyatt and her Torquay United Women teammates came from behind to score a 2-1 home win over Marine Academy Plymouth in the South West Women's League Premier Division yesterday (Sunday 30 January).
The visitors took the lead at 21 minutes. Danni went close just before half time, but her shot hit the side netting, and it was 1-0 at the break.
United equalised just after the break, when Beth Everson won a penalty, which Tracey Cross converted. Ten minutes later, there was another penalty, but this time Tracey hit it over the bar.
The winner came at 56 minutes, when Esme Kilburn-Thomson beat the MAP keeper to her left to make it 2-1.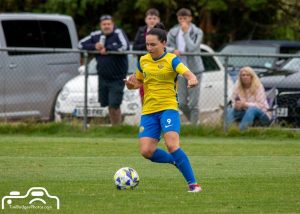 Danni told us: "I'm really pleased with the way we did not give up – 1-0 down at half time, I didn't see a single head drop. We knew we could still take the game and the points.
"We built each other up and spurred each other on in the half-time break. We knew we had to do something special the second half and we came back fighting to take the points with a 2-1 win, credit to the whole team for attitude, performance and togetherness."
You can see post-match interviews with Esme and manager Grant Fisher here.
Sport is one of our specialist areas, so if you're involved in sport and looking for PR or communications support, see what we offer.