Worthy Youth Foundation, the Namibian charity set up by our fashion client Rahab Inghalwa, sponsored the recent end-of-year soccer tournament in her home village of Onamunhama.
The annual tournament includes players who still live in the village and those who have moved away but had come back to their family home for Christmas.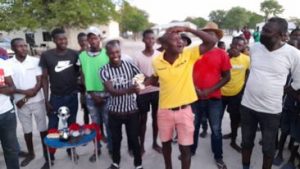 It also involves teams from nearby towns and villages.
Rahab, who runs the successful online fashion brand Ravenda Posh, was born and raised in Onamunhama and she regularly visits in the holidays to see her parents, siblings and grandmothers.
She is now looking to raise more funds for this year and to extend the support to more school teams who need financial help.
"I was very pleased we could support the tournament," said Rahab. "It means a lot to many people in the area."
Rahab set up the foundation to support young people in various ways, including providing study aids and basic needs, as well as sanitary products to reduce school absence among girls.
Anyone interested in helping can email worthyouthfoundation@yahoo.com
Sport is one of our specialist areas, so if you're involved in sport and looking for PR or communications support, see what we offer.