We're excited to announce we are continuing our partnership with York City Knights and England rugby league star Kelsey Gentles for 2022.
This season we will become her personal sponsor, with support to cover the cost of her boots, training, recovery skins and supplements throughout the season.
"I'm super, super happy to be able to work with Weltch Media again this year in this way, it means a lot to be have supportive people in my corner especially in World Cup year!
"It's hard work being a full-time athlete but having the support from Andy and Weltch Media through this personal sponsorship means a lot to me and means I don't have to juggle everything on my own all year.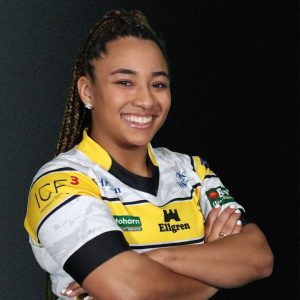 "Weltch Media have being supporting me for a long time now, and Andy has become a great mentor and friend to me in this time, so I am very excited to continue this partnership in 2022!"
Kelsey, who recently recovered from injury and covid, will wear the number 5 shirt for York this year in the Betfred Women's Super League. She also hopes to represent England in the World Cup later this year.
Kelsey features in our comedy promo video With a T, which we compiled during the 2020 covid lockdown.
Her official club sponsor this season is Trade Cars 4 U.
Sport is one of our specialist areas, so if you're involved in sport and looking for PR or communications support, see what we offer.