The definitive biography of rugby's first 'superstar' is being published soon – and we're pleased to have played a part.
Arthur Goud – Rugby's First Superstar by Gwyn Prescott is due out later this month (September 2023).
'Monkey' Gould was the greatest football celebrity of Victorian Britain – a time before soccer's expansion, when the Rugby School code dominated throughout much of the country.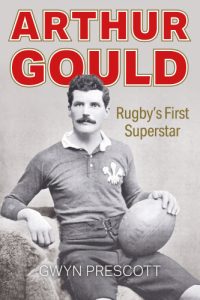 Gould was to football what W.G. Grace was to cricket – and his fame similarly spread around the world. When he died in 1919, aged just 54, his funeral in Newport was reported to be the largest Wales had ever seen.
We were very pleased to have been invited to proofread the book, which is published by St David's Press on 28 September.
St David's Press and its partner imprint Welsh Academic Press often use our services, reassured by our skill and experience – and our ability to meet tight deadlines.
We recently worked with them on a guide to Irish politics, a biography of pioneering Welsh journalist (and hero in Ukraine) Gareth Jones, and on the autobiographies of dual-code rugby internationals Steve Fenwick and Mark Jones.
Arthur Gould – Rugby's First Superstar by Gwyn Prescott is published by St. David's Press, priced £17.99.
If you need help with editing or proofreading of any publication in print or online, please get in touch, and check out this short video about our editorial services.