There was disappointment for Torquay United Women and our sponsored player Danni Wyatt yesterday (Sunday 17 September) with a narrow home defeat in a game they dominated.
Visiting Keynsham Town Ladies took the lead against the run of play on 15 minutes before Torquay equalised early in the second half – Rhi Bailey connected with Ella Stephens' free kick, but the shot was blocked by goalie Isabelle Amphett to Rachel Griffiths who looped a neat finish over the keeper.
United continued to pressurise and looked likely to go ahead, but after Danni was subsituted in the 70th minute, it was the visitors who took the lead in controversial circumstances.
Keynsham's Sophie Price broke away to beat the advancing Torquay keeper Ema Ayres, despite apparently being offside.
Torquay piled on more pressure in the last 20 minutes but couldn't break through.
"We played some excellent football," said Danni. "I think the scoreline doesn't reflect the fixture itself – a game we seemed to dominate and with a questionable second goal from the visitors saw us lose out on a point yesterday.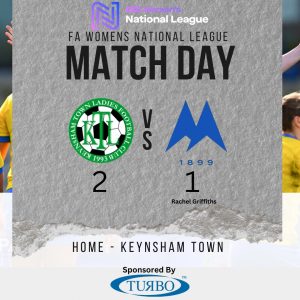 "Credit to the opposition's keeper [Isabelle Amphett] who for me looked very experienced and kept us out of the net for more chances."
This is Torquay's first season in the National League after finishing top of the South West Women's League Premier Division last season to gain promotion to the FA Women's National League Division 1 (South West) – the fourth tier of the women's game in England.
We first sponsored Danni in the 2017/18 campaign, when she helped Torquay to third place in the league and to the final of the Devon Cup and won the goal of the season award.
In 2022, she helped Torquay to a sensational victory in the Devon FA Cup Final and was named club player of the season.
And in 2020, she was among our friends who featured in the popular comedy promo video With a T.
Sport is one of our specialist areas. If you're involved in sport, business, or education and looking for PR or communications support, see what we offer.