Congratulations to our sponsored player Danni Wyatt, who made her 100th league appearance for Torquay United Women yesterday (Sunday 16 April) in a sensational game, which saw her return to the field from injury to help the team to a vital draw.
The 1-1 tie at Liskeard keeps Torquay on course for the South West Women's League Premier Division title and promotion to the fourth tier of women's soccer in England for the first time.  A win in the final game would secure it.
Torquay took the lead yesterday through Connie Pengelly after just four minutes, but were later reduced to 10 players when Connie was sent off.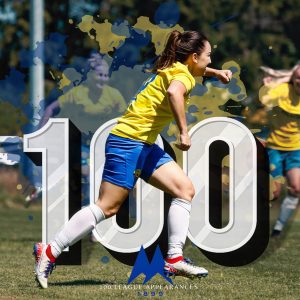 There was a long delay when Sasha Mole was treated for an injury, and when play resumed Torquay were down to nine. Danni, who had already gone off with an injury, returned to help the team hold on for a point, after Liskeard equalised through Gabi Alphous.
After the game, club captain Danni said: "Unbelievable. I have no words – this club, these girls, that shift. Sensational!"
Speaking before the game about Danni's 100th appearance, manager Steve Elswood, said: "Amazing achievement and one that's only been achieved by one other player in our history from my knowledge.
"For Danni to do this in the club's best season ever as well is a testimony to her commitment, energy, leadership and love for the club which you don't find often in football.
"It would be very fitting therefore that we could get the job done this season and reach tier 4 football for the first time as league champions and along with this milestone for Danni and some other incredible feats that the team have made in recent months makes this 22-23 season truly, one to remember."
Weltch Media first sponsored Danni in the 2017/18 campaign, when she helped Torquay to third place in the league and to the final of the Devon Cup and won the goal of the season award.
Last season she helped Torquay to a sensational victory in the Devon FA Cup Final and was named club player of the season.
In 2020, she was among our friends who featured in the popular comedy promo video With a T. 
Sport is one of our specialist areas. If you're involved in sport, business, or education and looking for PR or communications support, see what we offer.