Our sponsored York City Valkyrie player Kelsey Gentles will be in action at the Rugby League World Cup final this weekend – not as a player, but behind the microphone for BBC television.
After battling with a knee injury, Kelsey missed out on selection for the England team, but has been busy through the tournament as a member of the panel for the televised women's games.
"It's been really fun. It is nerve-wracking being on live TV, but I've really enjoyed it," she told the York Press.
"Danika (Priim), Lois (Forsell) and Tanya (Arnold) are all a little bit older than me, so they look after me and make sure I'm not too stressed.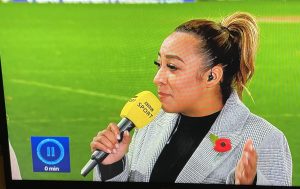 "There's a great team there. It doesn't feel like work, you're having fun and watching the World Cup."
Australia and New Zealand will contest the women's final, which kicks off at Old Trafford, Manchester at 1.15pm (UK time) on Saturday (19 November). Kelsey will be part of the panel again for the TV coverage on BBC1.
We are a long-time supporter of Kelsey and this year became her personal sponsor, with support to cover the cost of her boots, training, recovery skins and supplements throughout the season. Her official club sponsor this season has been Trade Cars 4 U.
Kelsey helped York to the League Leaders Shield and to the Grand Final this season.
In 2020, Kelsey was among our friends who featured in the popular comedy promo video With a T. 
Photo courtesy of Kelsey Gentles on Twitter.
Sport is one of our specialist areas, so if you're involved in sport and looking for PR or communications support, see what we offer.