'Enjoyable' and 'useful' with 'good tips and ideas' – that was the verdict on our last training session of the year.
This was our latest online copywriting session – a half-day (19 December) for members of the Communications and Marketing Division at Cardiff University.
"The team really enjoyed the course and found it very useful," Dave Roylance, Deputy Director and Head of UK Student Recruitment and Outreach told us.
"For me, as someone who has never received any formal training in copywriting, the course put some structure around things I was already unconsciously doing and, also gave me some good tips and ideas to think about."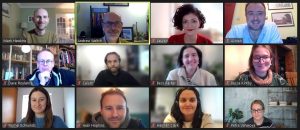 The session, run on Zoom by senior consultant Andy Weltch and writer Mark Hawkins, covered: getting started; approaching your project; writing for different audiences; headlines; writing persuasively; polishing your text; and avoiding common mistakes.
We have previously run copywriting training for Loughborough University (who commissioned five sessions) and City, University of London. And the course builds on our experience of major copywriting projects for universities, including Swansea, Southampton, Cardiff, and City.
This training is ideal for teams who write or edit web content or other material and can be adapted for any organisation.
Founded in 1883, Cardiff University is one of Britain's leading research universities. Its ambition is to prove its standing as one of the top 100 universities in the world and the top 20 in the UK.
If you need expert help to create web content or for any writing project, or if you're interested in training, check out our services and contact us to discuss.