Our debut fiction film is now offering movie fans and supporters the chance to get involved in the production.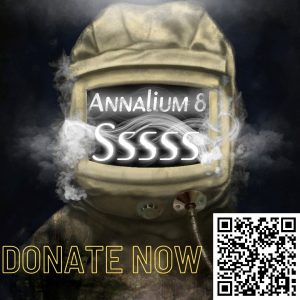 With perks ranging from a signed script to a digital poster, from a soundtrack download to an on-screen credit, the crowdfunding campaign for this made-in-Wales film appropriately goes live on St David's Day – celebrating the patron saint of Wales.
Annalium 8 is set in a world where all animal life has been wiped out. But a scientist in full bio-hazard kit and with a life-support machine in tow, discovers a young girl in a forest, apparently fit and well.
Weltch Media is producing the dark scifi short film with Annalium Films, from a script by Rob Lancey, a writer born and raised in Rhiwbina, Cardiff, where much of the film was shot last year.
Now in post-production, the 10-minute short is expected to be completed in the summer, after the trailer was released last week.
The crowdfunding campaign is designed to help pay for the postproduction stage, including editing, sound design, and a local screening, as well as entry in festivals to reach audiences around the world.
The campaign is being run by the film's recently appointed promotions manager, Kate Israel. A talented communucations professional, Kate has a masters degree in film and has worked at NBCUniversal Media and Bad Wolf.
"So far we've been able to fund the project ourselves," said Rob. "But now we need help to get across the finish line and get the film out to the world."
Directed by Andrew Griffin, Annalium 8 stars award-winning Francesca Louise White and introduces Minaii Baelfire, who has the distinction of being the first Black Young Elsa in a stage production of Frozen.
"We have a brilliantly talented cast and crew and now a top-class team putting the footage into shape," said Rob. "We were always determined to create a high-quality product that we could all be proud of, and the trailer gives an indication of how good it will be".
You can find the crowdfunding campaign here.
Watch the trailer here.
And follow the film on IMDb, Facebook, Twitter,  and Instagram.
Arts and entertainment are among our specialities. If you're involved in this sector, contact us to find out how we could help you.