Congratulations to our sponsored player, Torquay United Women's captain Danni Wyatt, who was among the scorers in a 4-1 pre-season over Saltash yesterday (Sunday 7 August).
"It was a a good test with a smaller squad," Danni told us. "We were missing some of our key players for the game but we still wanted to push for a decent result. We welcomed back Daisy Self and Rhi Bailey, who I'm delighted to have back with us for the 22/23 season – they really strengthen us in the middle of the pitch and they're two very good friends I've shared the pitch with for some time now.
"The sun was hot on us yesterday but that didn't stop us putting four past a physical Saltash side – credit to Saltash who pushed us in the second half but we broke through the barriers caused by heat and fatigue to extend our lead and take the result."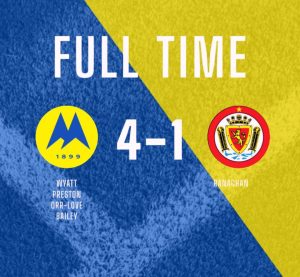 Scorers were: Danni Wyatt, Mia Preston, Rhi Bailey and Mollie Orr-Love.
Last month we announced we will again be sponsoring Danni for the 2022/23 season. We first sponsored her in the 2017/18 campaign, when she helped Torquay to third place in the South West Women's Premier League and to the final of the Devon Cup. She also won the goal of the season award.
In 2020, she was among our friends who featured in the popular comedy promo video With a T, and last season she helped Torquay to a sensational victory in the Devon FA Cup Final and was named club player of the season.
Danni is due to make her 100th career appearance for the club this season.
Sport is one of our specialist areas, so if you're involved in sport and looking for PR or communications support, see what we offer.