Our hot rod racer Mark Shelper's world championship qualifying campaign has got off to a disappointing start.
A blown head gasket – and possibly more engine damage – at the opening round of the 2022-23 series at Buxton could keep the 788 Peugeot out of action for a while.
The meeting started well, with Bristol-based Mark finishing 13th in the first race, despite brake issues for the last few laps.
"We got them sorted for the second race and I was running 6th at a restart," he said. "But as we went green again, the car started to misfire. I pulled off and then the temperature went through the roof even after I'd switched it off.
"We found a pipe had blown off as it had over pressurised – and it's blown the head gasket and maybe more. We'll be taking the engine out and getting the brilliant JB Racing to have a look and see what it needs. Then we'll know how long we will be out for!"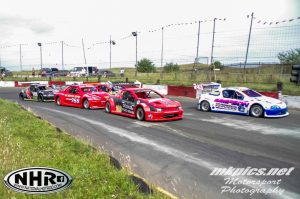 We're awaiting confrmation of how many points Mark scored. We are sponsoring £1 for every point towards the Big Moose campaign for mental health and suicide prevention and inviting others to contribute.
The meeting at High Edge Raceway, Buxton marked the start of the qualifying series for the 2023 world championship final next July. The top scorers in the English series will join qualifiers from the other nations involved. This year, Mark qualified for the first time.
The Weltch Media logo on Mark's Peugeot 206cc continues our long-standing involvement in motorsport. In the past we have supported Ben Power in the UK Legends Car Championship and James Holman in the Irish Championship. We've also backed James in several online iRacing events, and in 2018 we teamed up with Mendips Raceway to present the Weltch Media West of England Hot Rod Championship.
National hot rods are the top level of short track racing in the UK, with sophisticated lightweight production car replicas whose engines produce around 240bhp.