We're excited to report that our co-sponsored  rugby league player, Kelsey Gentles of Castleford Tigers Women, has recovered well from her shoulder injury and returns to training with the England squad this weekend (November 28).
Here's the latest update from Kelsey:
Hi guys,
It's been a while since we caught up so lots to discuss!
My big news is that I have finally been signed off to return to contact and rugby training in the recent weeks. This news was such a welcome relief, as recovery has been pretty difficult due to COVID-related restrictions, but I am pleased with the results of my physiotherapy and grateful my body has healed so superbly.
This accelerated recovery has meant that I can return to training three months ahead of when the medical professionals initially predicted I would return.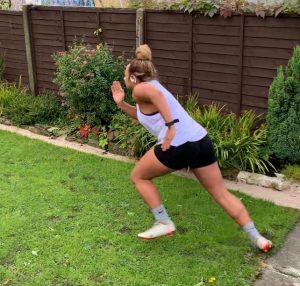 Along with this positive news, I have also been able to return to lifting some decent weights in the gym which I have missed greatly since being injured, I am seeing the difference as well in comparison between pre-op and post-op as I can lift heavier weights in my upper-body.
All of this amazing news I have received has all circumvented into my return to England training on the 28th which I had been looking forward to since I had the operation.
There had been many weeks prior that I felt frustrated to be missing out and not being able to train with the girls and work on my athletic ability, so finally being able to return to training feels really good.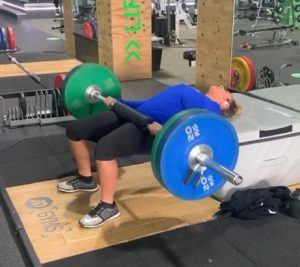 I am so keen to get back to England training especially due to this time away being injured – if anything it has made me even hungrier to make my mark in that England shirt and make sure I am in the World Cup squad a year from now.
Another thing I am looking forward to is my return to Castleford Tigers training – I've missed the girls so much and can't wait till we can return to the Jungle and put on a show for the fans (COVID permitting!).
So much to look forward to in the future and I'm sure next time we speak I'll have lots to tell.
Take care, guys.    Kels ✌🏽
Kelsey was top try scorer and Tigers supporters' player of the year last season, and was a nominee for Telegraph Woman of Steel (the player of the year in Women's Super League) after helping Castleford to the League Leaders Shield and to both the Challenge Cup Final and Super League Grand Final.
She was also part of the England team which competed in the 2019 World Cup 9s in Sydney and the tour of Papua New Guinea.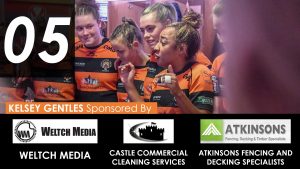 Kelsey appeared in our comedy promo-video With a T, and has been a key worker in retail during the the pandemic. With the 2020 season cancelled because of the virus, our support will continue into 2021, as co-sponsors of Kelsey, alongside Atkinsons Fencing and Castle Commercial Cleaning Services.
Sport is one of our specialist areas. See how we could help you, your team, or organisation.