Our Legends Car racer James Holman scored a series-best 4th place finish in the latest international Legends Car sim race in Finland this week (Thursday June 4th).
The only British driver in the online championship, James qualified 8th in a depleted entry of 13 at the simulated Botniaring circuit.
He took the Weltch Media car to 7th place after thrilling duels with Uldis Timaks of Latvia and Finland's Philip Miemois on the long, fast straights of the Finnish track.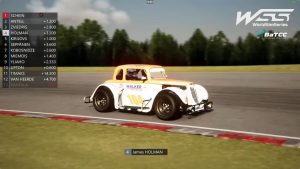 With the top 10 reversed for the start of race 2, James set off from row two and was in the lead at the first bend. But a misjudgement sent him off the track and lost him several places.
"I missed my braking point by a metre, then just missed the apex by mile!" he joked afterwards.
He recovered in 5th place, and chased down Latvia's Raivis Kirilovs to take fourth. The results move him into 7th place in the championship, which regularly sees 25 cars on the grid.
It was a huge improvement for James after technical issues held him back at the previous round in Estonia.
Advice from championship leader Julien Schein, who won both races at Botniaring, helped.
"He gave me a direction for the setup," said James. "It felt better, but I still need to test a bit more with it to feel more comfortable. Two reasonable results, though. It's just a shame I got excited when leading on the first lap!"
James missed the opening round because of computer problems, but finished 10th and 13th at Ahvenisto, Finland, in round two, and then 6th and 8th at Knutstorp, Sweden. Next week sees the final round in Latvia.
The races, run by the Baltic Touring Car Championship and involving real-life Legends Car drivers from around the world, take place each Thursday evening, and are shown live on Facebook, YouTube, and Motors.tv.
Many racing series have moved online, while most real racing is on hold because of the coronavirus pandemic.
In real-life racing, James competes as part of the Samsport team in the Irish Legends Car Championship, with sponsorship from Walker Vehicle Rental and support from us at Weltch Media. He has recently announced a tie-up with leading Swedish Legends Car team, Nyman Racing.
A former rookie of the year and championship runner-up in the hotly contested UK Legends Car series, he finished runner-up in Ireland in 2016 and was fourth in 2018 and 2019.
Legends Car racing originated on the US oval tracks, and the cars have an American look, being 5/8-scale replicas of classic US models.
Motorsport is one of our specialist areas. See how we could help your race team, promotion or related business.